PlayGround Festival of New Works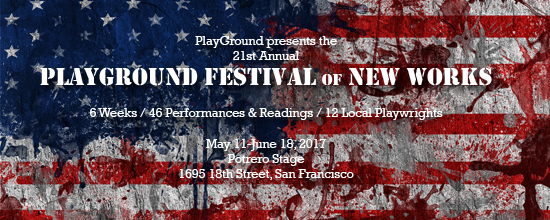 PlayGround is excited to announce the lineup for our 21st Annual PlayGround Festival of New Works. The festival runs May 11 – June 18 at Potrero Stage, PlayGround's newly-renovated San Francisco home, and features more than a dozen of the best new short and full-length plays by Bay Area writers. United by the theme of America, first?!, the works are putting their own  spin on the Trump campaign promise and our never-ending pursuit of the "American Dream" (and beyond!).
The festival lineup includes:
Individual tickets are $25-$55 and All-Festival Passes (including priority seating tickets to all festival activities) start at $80. For the complete schedule of performances and readings or to purchase tickets online, visit http://playground-sf.org/festival or call (415) 992-6677.
PLAYWRIGHT BIOS:
Crish Barth (If Found Please Call) has written over 30 short plays, as well as numerous screenplays and full-length plays. He is an alumnus of PlayGround, where, in addition to several selections in the Monday Night series, he received the 2008 Emerging Playwright Award as well as the 2012-13 PlayGround Fellowship/Commission. His work has appeared in many of the local new play festivals as well as nationally at venues ranging from Albuquerque to Kentucky to New York City. Most recently, his full length screenplay Wedding of Mass Destruction was named a quarter-finalist in the WE International Screenplay Competition.
Patricia Cotter (Daughters) Awards: American Academy of Arts Letters, Richard Rodgers Award, Heideman Award Finalist, Emmy Award. Plays: Rules Of Comedy 39th Humana Festival of New American Plays, 2015; The Anthropology Section (2015), The Actors Theatre of Louisville; The Surrogate, (The Eugene O'Neill Theater Center's 2016 National Playwrights Conference finalist, produced by Centenary Stage Company, NJ, 2017); and 1980 or Why I'm Voting for John Anderson (2016 PlayGround Festival selection).
Victoria Chong Der (Balancing) has written for several Bay Area companies. She is a resident playwright of the Playwrights Foundation and PlayGround, received a 2014 PlayGround Fellowship, and has a BA in Creative Writing from Oberlin College. Her short play, GraceD, was featured in PlayGround's The Potrero Nuevo Project, the inaugural production of Potrero Stage. She's co-writer on Vignettes on Love, premiering this July.
Jerome Joseph Gentes (OR: or, The Play of Light) is a content designer, Executive Director at Play Cafe, and co-founder of Musical Cafe. His writing has appeared in many literary journals, and he is collaborating on a new musical, THE RIGHT NOTE. He recently co-produced Sheherezade's Last Tales (TBA Award for Outstanding Anthology) and PCSF PLAYOFFS.
Genevieve Jessee (I Had a Bird) received a B.A. degree in Theatre Arts from Dillard University, and an M.F.A. in Playwriting from Boston University. Her work has been presented at the Source Festival, Boston Playwright's Theater, EXIT theatre, and the Atlanta Black Theatre Festival. She is the recipient of the 2017 June Anne Baker Prize, Best of San Francisco Fringe Festival and a two-time PlayGround's Emerging Playwright Award winner. Her short play, Walls Come Tumbling Down, was featured in PlayGround's The Potrero Nuevo Project, the inaugural production of Potrero Stage.
Nicole Jost (Monarchs in Space) is a two-time winner of the James Milton Highsmith Playwriting Award for queer theater. She was recently named a national semi-finalist for the John Cauble Award for Outstanding Short Play. Her work has been seen in DC, Minneapolis, Denver, and here in San Francisco. Nicole is the recipient of a PlayGround/Planet Earth Arts commission to develop a new full-length play based on her Best of PlayGround short, Monarchs in Space. She is currently pursuing her M.F.A. at SFSU.
Melissa Keith (Mission: Ambivalent) has been in the PlayGround Writers Pool for four years, and has had six Monday Night selections. Originally from the Midwest, Melissa began playwriting while earning her BA in Theatre from Marquette University. Since arriving in the Bay Area, Melissa has enjoyed working with Virago, SF Shakespeare Festival, KML, NCTC, Open Tab, Theatre Rhino, and PCSF. In September, Melissa will direct Puppetry of the Lobster, a puppet sketch-comedy show with SF's own sketch group, Killing My Lobster.
Sang S. Kim (Explicit Content), an NYU graduate, has contributed to NY Fringe, SF SketchFest, and NYC and Bay Area companies including Asian American Theatre Co and Killing My Lobster. He has been profiled in the Village Voice and SF Chronicle. He is a proud former congressional staff member for Hillary Rodham Clinton.
Robin Lynn Rodriguez (Hedge) is a playwright, actor and theatre teacher, based in the San Francisco Bay Area. She won the 2012 June Anne Baker Prize for her short play, Hella Love Oakland, featured at Best of PlayGround 16. Her full-length adaptation of Hella was developed and subsequently premiered at the PlayGround Festival of New Works. Hedge was a finalist for the 2012 Bay Area Playwrights Festival and was developed at the 2014 PlayGround Festival. Her work has also appeared at the One-Minute Play Festival, Theatre Madcap, Ohlone College Playwrights Festival, and the Playwright's Theater at Tao House.
Kirk Shimano (Art v. Tech) strives to find his own balance between art and tech as he juggles his day job of creating digital lighting tools with his playwriting ambitions. This is his sixth year with PlayGround, his first year as a Resident Playwright, and his third year trying to usher this special love story, Art & Tech, to the stage.
Maury Zeff (Come And Knock on Our Door) has received two Emerging Playwright Awards, four People's Choice Awards, and a 2017 Fellowship from PlayGround. His plays have been performed around the country, including in the Best of PlayGround 2014, the Potrero Nuevo Project, and the Vermont Drama Festival. His fiction has appeared in American Fiction 2012, Southern California Review, and elsewhere. He is a SF Writers Grotto Fellow, a co-founder of the Babylon Salon reading series, and has a MFA from the University of San Francisco.
Ignacio Zulueta (Kano + Abe) was born in Manila, studied in Providence, and writes in Oakland. His plays have been seen and heard throughout the Bay Area, as well as in Ashland, New York, Minneapolis, and on KUSF 90.3FM and KPFA 94.1FM. He's an alumnus of the AlterLAB at AlterTheatre and NewWorks Incubator at Asian-American Theatre Company. Ignacio has written sketch comedy for Battlestache Studios and does radioplays and live foley for 915 Cayuga – a live radio style variety show. He is the lead writer for the multi-acre site-specific event Matthew Briar and The Age of Resurrection at San Jose's History Park. Ignacio is the recipient of a PlayGround Emerging Playwright Award and PlayGround Fellowship for his short and full-length plays.