The Obligation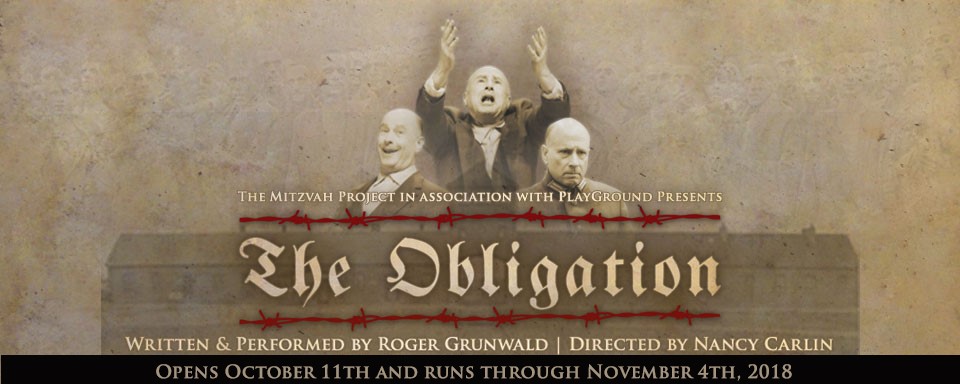 THE OBLIGATION
Written & Performed by Roger Grunwald*
Directed by Nancy Carlin
Coming October 11-November 4, 2018 to Potrero Stage
The Obligation is a fiscally-sponsored project of PlayGround (Federal ID 94-3336399). All donations are tax-deductible to the extent allowed by law.
A Jewish-American comedian, an Auschwitz survivor, a half-Jewish German soldier and an SS General explore the dark history of their (our) world in the world theatrical premiere of The Obligation, a one-person show written by and starring Roger Grunwald and under the direction of Nancy Carlin. Through drama and humor, The Obligation explores little-known aspects of The Holocaust and the post-war survivor experience and asks: Who decides what culture, race and ethnicity mean? What is identity? Why do we demonize "the other"?
* Member of Actors Equity Association
Video Preview
Reviews & Press Coverage
"Roger Grunwald's one-actor, multi-character The Obligation [is] flawlessly performed by Grunwald and elegantly directed by Nancy Carlin. — Jean Schiffman, San Francisco Examiner
"Roger Grunwald's The Obligation [is] a newly relevant play about Nazism." — Lily Janiak, San Francisco Chronicle
"The Obligation delivers life lessons… Roger Grunwald's acting (it's great)… and Nancy Carlin's directing (it's excellent)." — Theatrius.com
[Roger] Grunwald's characters command the stage… [he] is an excellent actor. — SF Theater Blog
"…astonishingly relevant." — Huffington Post
4.8/5 Stars — Goldstar
"One man's 'Obligation' to recount the painful truths of the Holocaust" – J Weekly
The Obligation includes the text and characters from the short play, The Mitzvah, co-authored by Roger Grunwald and Annie McGreevey. The original production of The Mitzvah was directed by Ms. McGreevey. For more information, visit http://theobligation.org.