The Obligation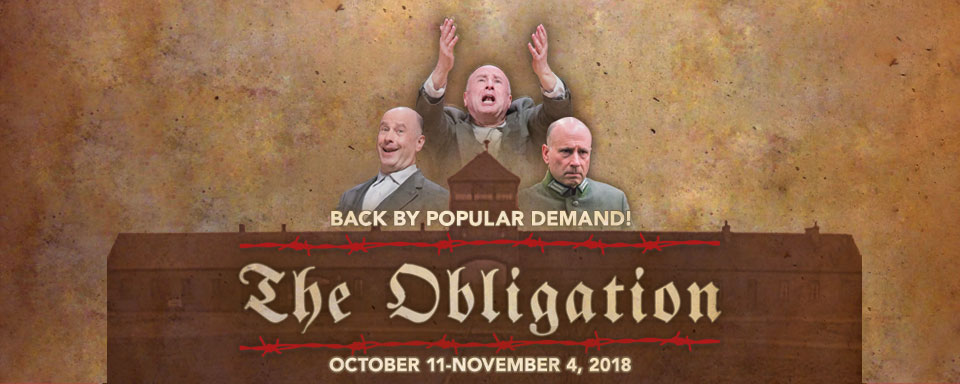 THE OBLIGATION
Written & Performed by Roger Grunwald
Directed by Nancy Carlin
October 11-November 4, 2018
Potrero Stage, 1695 18th Street, San Francisco
(415) 992-7990
SPECIAL STUDENT-ONLY PERFORMANCE: October 29, 7:30pm
For more information, email info<at>playground-sf.org or call (415) 992-6677.

Starring internationally-acclaimed actor Roger Grunwald and directed by Bay Area Theatre Critics Circle award winner Nancy Carlin, this celebrated work interweaves the stories of a Polish Jew coming of age during World War II, a half-Jewish lieutenant in Hitler's army, a high-ranking SS officer, and a Jewish-American comedian (the play's Chorus)—all brought to life onstage in Grunwald's tour-de-force performance. The Obligation offers a provocative and timely look into the corrosive moral dilemmas of World War II and the Holocaust: a time when the unimaginable was the norm and survival depended on the right choice, guile, and sheer luck. BREAKING NEWS: The Obligation is a TBA Awards Finalist for Outstanding Solo Production, Outstanding Lighting Design, and Outstanding Sound Design! Presented in partnership with PlayGround and the Holocaust Center of San Francisco's Jewish Family and Children's Services (JFCS).
Post-Performance Discussions
The author/performer will be joined by the following guests for a discussion after the performance on the following dates. Additional post-performance discussions may be added during the run and can be confirmed at the box office upon arrival.

Sunday, October 21st
Kurt Kleinmann was born in Vienna in 1930, the youngest of four. His mother arranged for him to come to the United States unaccompanied when he was just 11, as part of what is now known as The One Thousand Children (OTC). An older sister, Edith, 19 at the time, was also saved by taking a job as a domestic in England in 1939. His mother and other sister, Herta, did not survive after being shipped to Minsk in 1942. His father and brother, Gustav and Fritz, both survived Auschwitz, a story now documented – not only of their experience, but also of the family – in the newly released book by Jeremy Dronfield, The Stone Crusher (Chicago Press Review). Kurt, a retired hospital administrator and pharmacist, lives with his wife of 61 years, Dianne, in New Jersey. They have three sons, two daughters-in-law, four grandchildren, and a large extended family throughout the U.S. and Austria.
Saturday, October 27th
The Very Reverend Alan Jones is the Dean Emeritus of Grace Cathedral in San Francisco. He retired after serving as Dean for over 24 years. Previously, Dr. Jones served as the Stephen F. Bayne Professor of Ascetical Theology at the General Theological Seminary in New York City from 1972 – 1985 where he also served as the director and founder of the Center for Christian Spirituality. In 2001 Dr. Jones was made an honorary Canon of the Chartres Cathedral in France.
Saturday, November 3rd
Dr. Diane Wolf is a Professor of Sociology at the University of California Davis and for ten years, until recently, had been the Director of the university's Jewish Studies Program. Dr. Wolf has published several books focusing on a sociological approach to post-Holocaust Jewish life, including: Beyond Anne Frank: Hidden Children and Jewish Families in Postwar Holland. Dr. Wolf recently returned from a six-month sabbatical at the Center for the Study of AntiSemitism in Berlin. She is a San Francisco native, grew up in the Sunset District and is the daughter and granddaughter of German-Jewish refugees.
"The Obligation is… Unsparing… [and] should surely exist in perpetuity…flawlessly performed and elegantly directed." – San Francisco Examiner
"Grunwald is riveting" – New York Times
"Grunwald has a Meryl Streep-like ability to shift from one character to another without a trace" – Washington Informer
The Obligation is a fiscally-sponsored project of PlayGround (Federal ID 94-3336399). All donations are tax-deductible to the extent allowed by law.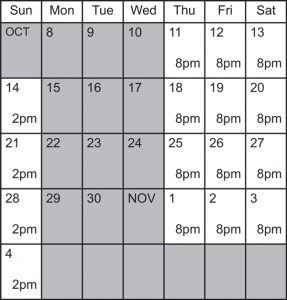 Video Preview
Reviews & Press Coverage
"Roger Grunwald's one-actor, multi-character The Obligation [is] flawlessly performed by Grunwald and elegantly directed by Nancy Carlin. — Jean Schiffman, San Francisco Examiner
"Roger Grunwald's The Obligation [is] a newly relevant play about Nazism." — Lily Janiak, San Francisco Chronicle
"The Obligation delivers life lessons… Roger Grunwald's acting (it's great)… and Nancy Carlin's directing (it's excellent)." — Theatrius.com
[Roger] Grunwald's characters command the stage… [he] is an excellent actor. — SF Theater Blog
"…astonishingly relevant." — Huffington Post
4.8/5 Stars — Goldstar
"One man's 'Obligation' to recount the painful truths of the Holocaust" – J Weekly
The Obligation includes the text and characters from the short play, The Mitzvah, co-authored by Roger Grunwald and Annie McGreevey. The original production of The Mitzvah was directed by Ms. McGreevey. For more information, visit http://theobligation.org.