The Obligation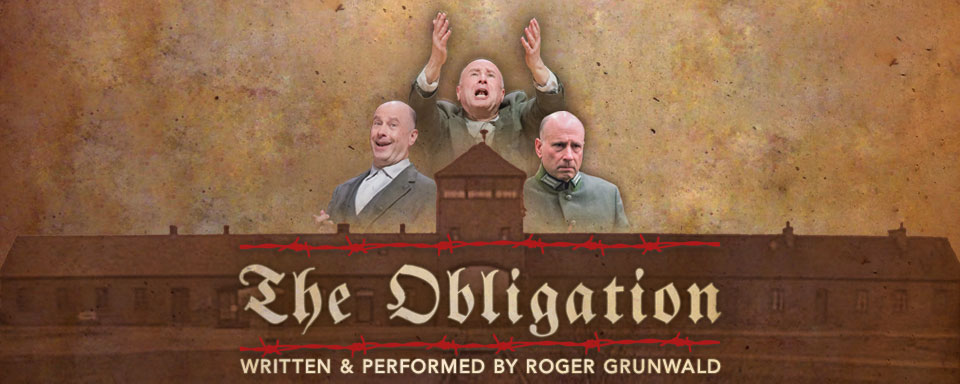 THE OBLIGATION
Written & Performed by Roger Grunwald
Directed by Nancy Carlin
Starring internationally-acclaimed actor Roger Grunwald and directed by Bay Area Theatre Critics Circle award winner Nancy Carlin, this celebrated work interweaves the stories of a Polish Jew coming of age during World War II, a half-Jewish lieutenant in Hitler's army, a high-ranking SS officer, and a Jewish-American comedian (the play's Chorus)—all brought to life onstage in Grunwald's tour-de-force performance. The Obligation offers a provocative and timely look into the corrosive moral dilemmas of World War II and the Holocaust: a time when the unimaginable was the norm and survival depended on the right choice, guile, and sheer luck. The Obligation is a TBA Awards Finalist for Outstanding Solo Production, Outstanding Lighting Design, and Outstanding Sound Design! Presented in partnership with PlayGround and the Holocaust Center of San Francisco's Jewish Family and Children's Services (JFCS).
"The Obligation is… Unsparing… [and] should surely exist in perpetuity…flawlessly performed and elegantly directed." – San Francisco Examiner
"Grunwald is riveting" – New York Times
"Grunwald has a Meryl Streep-like ability to shift from one character to another without a trace" – Washington Informer
The Obligation is a fiscally-sponsored project of PlayGround (Federal ID 94-3336399). All donations are tax-deductible to the extent allowed by law.
Video Preview
Reviews & Press Coverage
"Roger Grunwald's one-actor, multi-character The Obligation [is] flawlessly performed by Grunwald and elegantly directed by Nancy Carlin. — Jean Schiffman, San Francisco Examiner
"Roger Grunwald's The Obligation [is] a newly relevant play about Nazism." — Lily Janiak, San Francisco Chronicle
"The Obligation delivers life lessons… Roger Grunwald's acting (it's great)… and Nancy Carlin's directing (it's excellent)." — Theatrius.com
[Roger] Grunwald's characters command the stage… [he] is an excellent actor. — SF Theater Blog
"…astonishingly relevant." — Huffington Post
4.8/5 Stars — Goldstar
"One man's 'Obligation' to recount the painful truths of the Holocaust" – J Weekly
The Obligation includes the text and characters from the short play, The Mitzvah, co-authored by Roger Grunwald and Annie McGreevey. The original production of The Mitzvah was directed by Ms. McGreevey. For more information, visit http://theobligation.org.